About The Exhibit
One of the most interactive and inspiring exhibitions exploring the world of mathematics ever to tour.
MathAlive! is designed to inspire, to spark the imagination, to reveal not only math at work, but the endless possibilities of math. Designed for families and students the exhibition brings to life the real math behind what kids love most – video games, sports, fashion, music, robotics, and more – and creates interactive and immersive experiences that bring to life the math at work in each, whether in design, application or use.
[Note: content and elements may vary by venue.]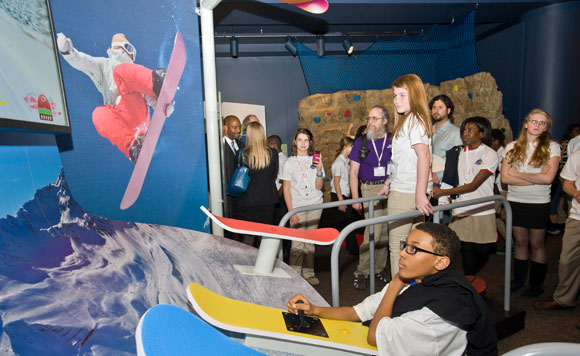 In this 5,000 sq. ft. exhibit, visitors will ride snowboards in a step-on experience, capture their 360 degree image in a freeze-motion video, try their hand at master engineering a model city, design a supertall skyscraper, and even design a skateboard to give it more 'POP.' Plus, two new interactive experiences have just been launched… In "Extreme Weather Alert," visitors can analyze weather data, and record their own weather telecast, which they can send to themselves. "Cyber Security" lets visitors step inside an online computer game, where they are challenged to defend against invaders—like computer bugs and viruses—using computer passcodes, multi-factor authentication, and simple code sequences.
Through dozens of unique, interactive experiences, the exhibit takes math from its native form into the applied worlds of design, engineering, technology and science.
The exhibition is designed to answer the age-old question: "Will I ever use all this math they're teaching us?"
Visitors are accompanied by fun and quirky virtual guides–the "BotZ"–and along the way you'll meet and hear professionals, visionaries and inspiring personalities talk about math in their work across fields kids are most interested in exploring.
Thematic Areas:
Outdoor Action… Adventure Sports
Build Your World… Environment
Future Style… Style and Design
Kickin' It… Entertainment
Game Plan… Video Games and Other Games
Robotics and Space
Resource Center
Real World Math… Featured Personalities
Eric "Tuma" Britton, professional skater/instructor
Brooks, co-owner and technical director, True Skateboards
Rondi Davies, geologist and champion marathon swimmer
Tanya Martinez, electrical engineer
Christine Outram, director, City Innovation, research associate, MIT
Neri Oxman, architect and designer, MIT Media Lab
Theo Jansen, artist and designer
Daniel Ferguson, IMAX film director and screenwriter
Ajay Kapur, musician and computer scientist
Robin Hunicke, game developer
Michael Mateas, game developer
Robin Murphy, robotics engineer
Kathryn Gray, student and supernova searcher
Robonaut 2
Worldwide Premiere
Smithsonian Institution
International Gallery
Washington, DC
The national exhibition and presentation at Smithsonian are made possible by Raytheon.
Learn more about MathAlive (PDF)
Developed in Collaboration with:
National Council of Teachers of Mathematics
NASA
National Society of Professional Engineers
MATHCOUNTS
Society of Women Engineers
MathMovesU
Note: Not all displays appear at all venues.